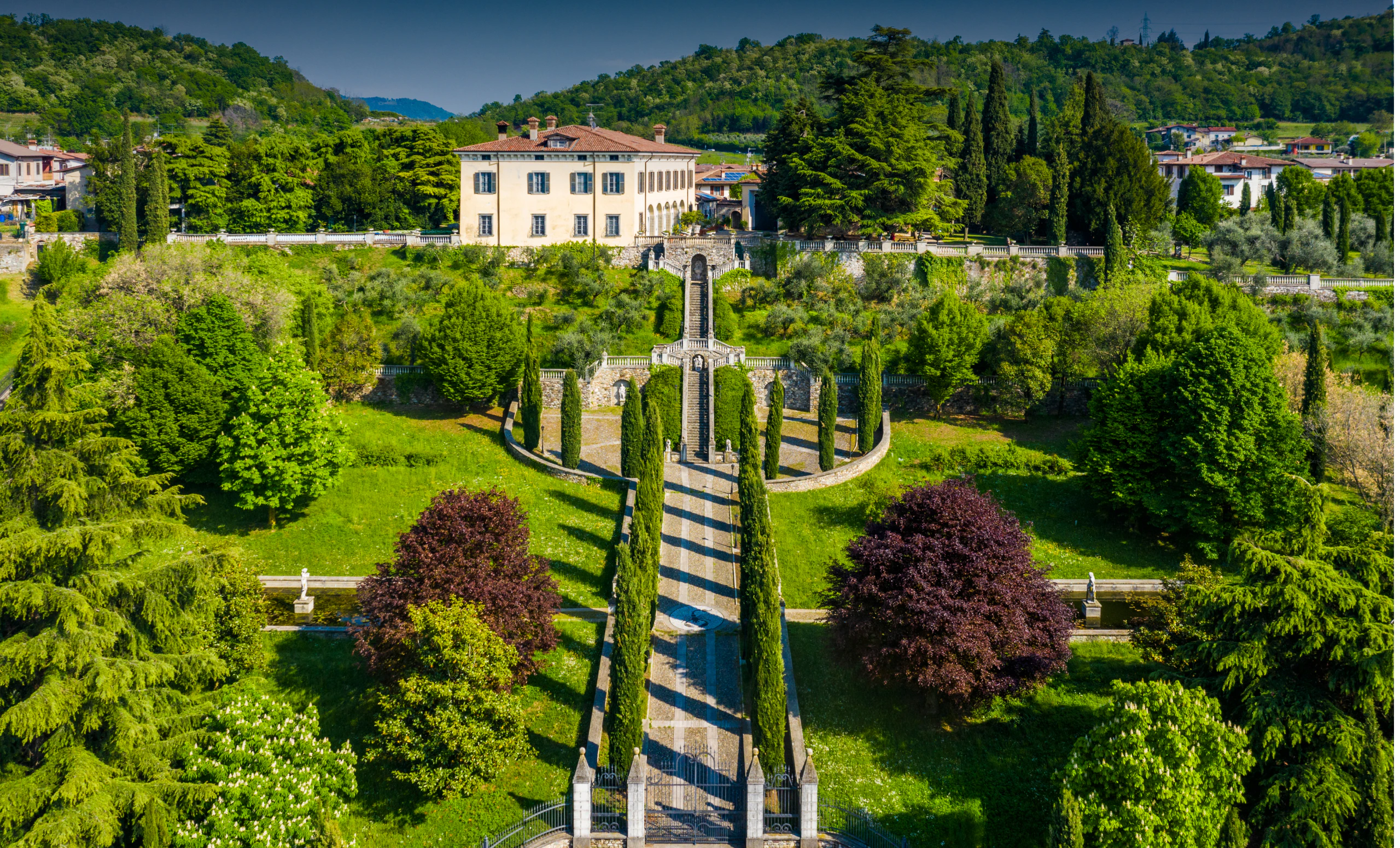 A new experience mixing wine tasting, art and wellness in Franciacorta.
A new way of discovering the wine and its territory in a complete sensory experience.
Visit Terre d'Aenòr
The visit
Let Eleonora guide you in the tasting of our Franciacorta wines in a picturesque context full of prestige.
19th century villa
Allow yourself to be carried away by the beauty of Palazzo Bianchi, a hidden treasure of the territory, much loved by FAI.
Clos vineyards
Explore a corner of Franciacorta that knows how to surprise you, by visiting the Clos (enclosed) vineyards of Palazzo Bianchi.
An experience
Immerse yourself in nature, relaxing the mind and the body and cultivating your inner essence with the help of an expert instructor.
Two different proposals
Start dreaming with one of our experiences.
Vineyard wellness
Duration 120 mins
Franciacorta Terre d'Aenòr Satèn Ricciolina
Franciacorta Terre d'Aenòr Extra Brut Millesimato
Wellness session in the park
Tasting session of Franciacorta Terre d'Aenòr
Accompanied by organic products
Book Now
make a gift
Art and sparkling wine
Duration 90 mins
Franciacorta Terre d'Aenòr Extra Brut Millesimato
Franciacorta Terre d'Aenòr Brut
Franciacorta Terre d'Aenòr Satèn Ricciolina
Guided visit of Palazzo Bianchi
A walk through the Clos vineyards
Tasting session of Franciacorta Terre d'Aenòr
Accompanied by organic products
Book Now
make a gift
Give a visit as a gift
Show a special person how much you care by gifting them a visit or an experience at Palazzo Bianchi.
Choose "Vineyard wellness" to gift an experience that mixes mindfulness and physical wellness. Instead, "Art and sparkling wine" is perfect for people who want to discover a hidden treasure of Franciacorta.
Both packages conclude with a tasting session of our wines.
The recipient of the gift will receive an open ticket and will be able to choose the date they prefer. For more information go to the FAQ.
Palazzo Bianchi
Breathe in the atmosphere of a historic 19th century villa and discover its richness
Palazzo Bianchi, located in Provaglio d'Iseo, is a hidden treasure of Franciacorta. It is a property full of intrigue with a story worthy of a novel, which has been a point of interest for archeologists, historians and art critics. The individual imprint of the different families that inhabited the property over the years can be seen right up to and including the Bianchi family who currently live there.
The current villa was constructed in the 1800's even if there is evidence of previous buildings dating back centuries earlier with many important architectural and artistic details that will conquer you.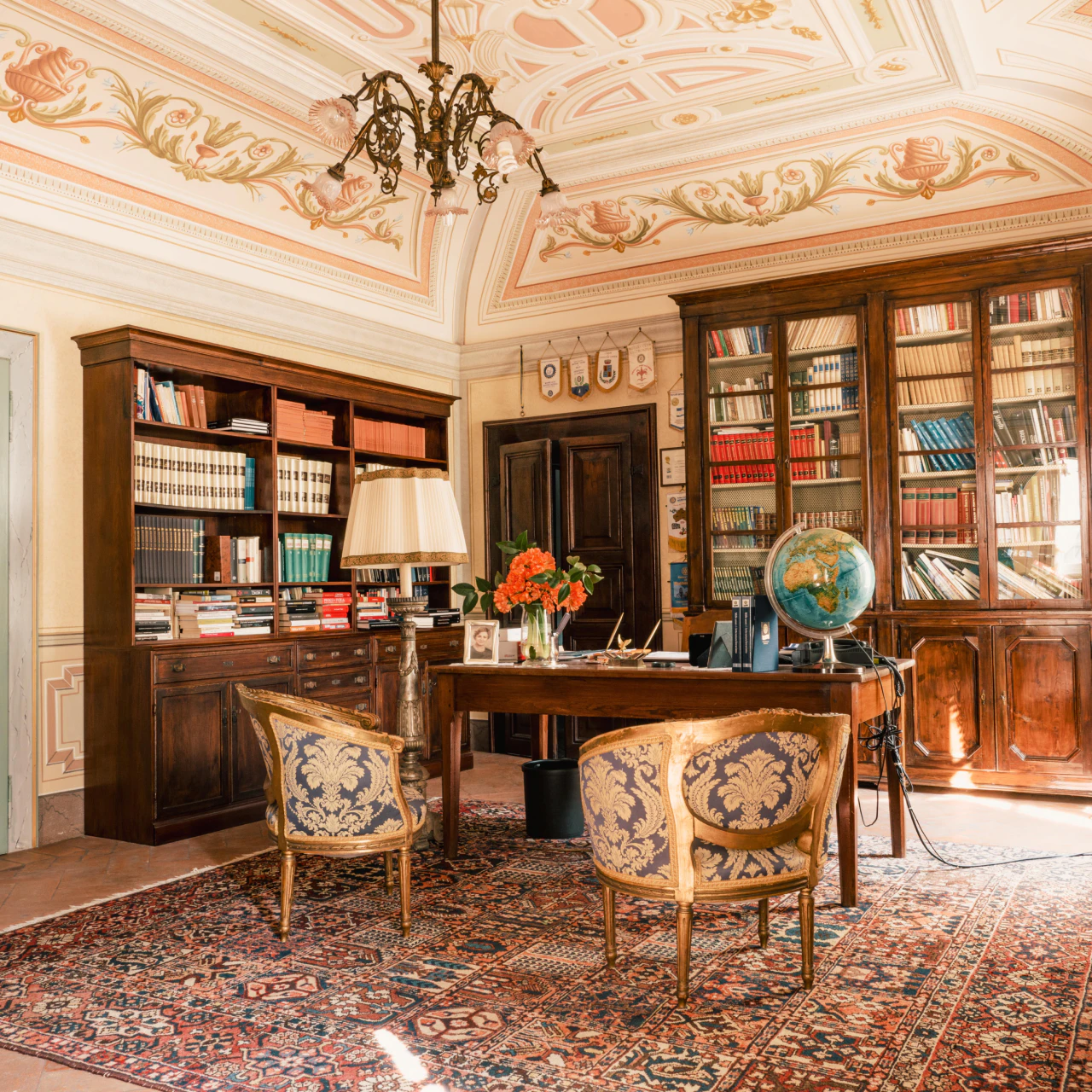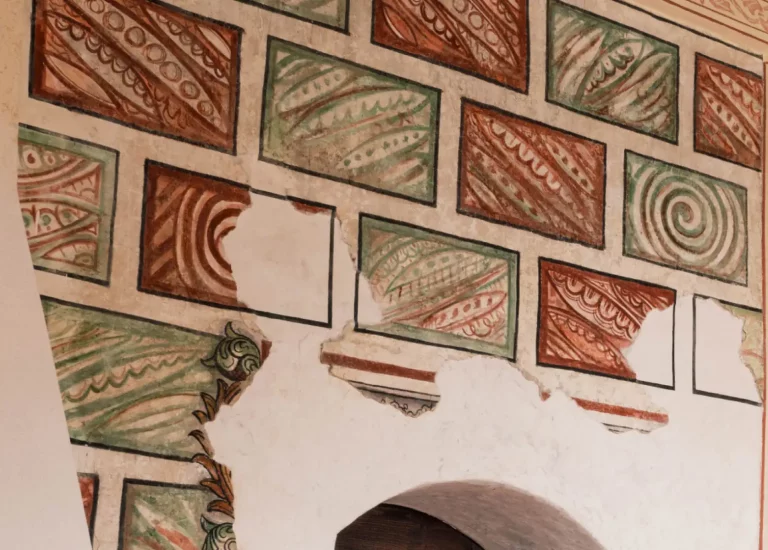 Palazzo Bianchi
15th century frescoes
In the gallery on the first floor, admire the preserved remains of frescoes dating from the 15th century. In the other rooms, discover wonderful examples of traditional Brescian frescoes, dating from the 18th century
Close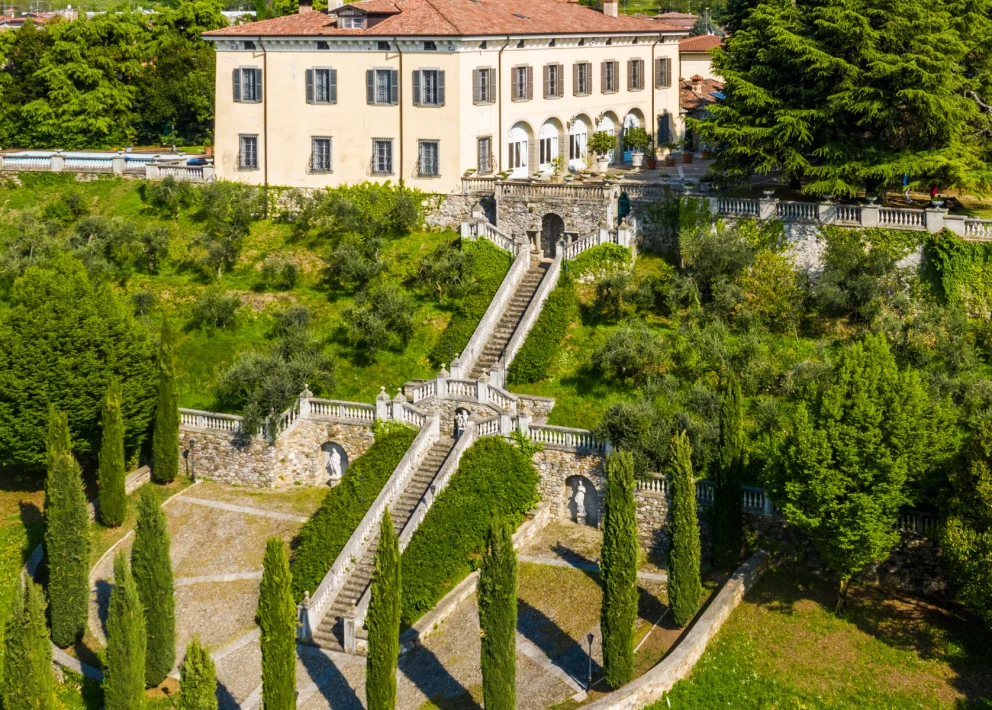 Palazzo Bianchi
Spectacular steps
Allow yourself to be enchanted by Palazzo Bianchi's impressive entrance featuring a long tree-shaded avenue culminating in spectacular 18th century steps leading up towards the villa.
Close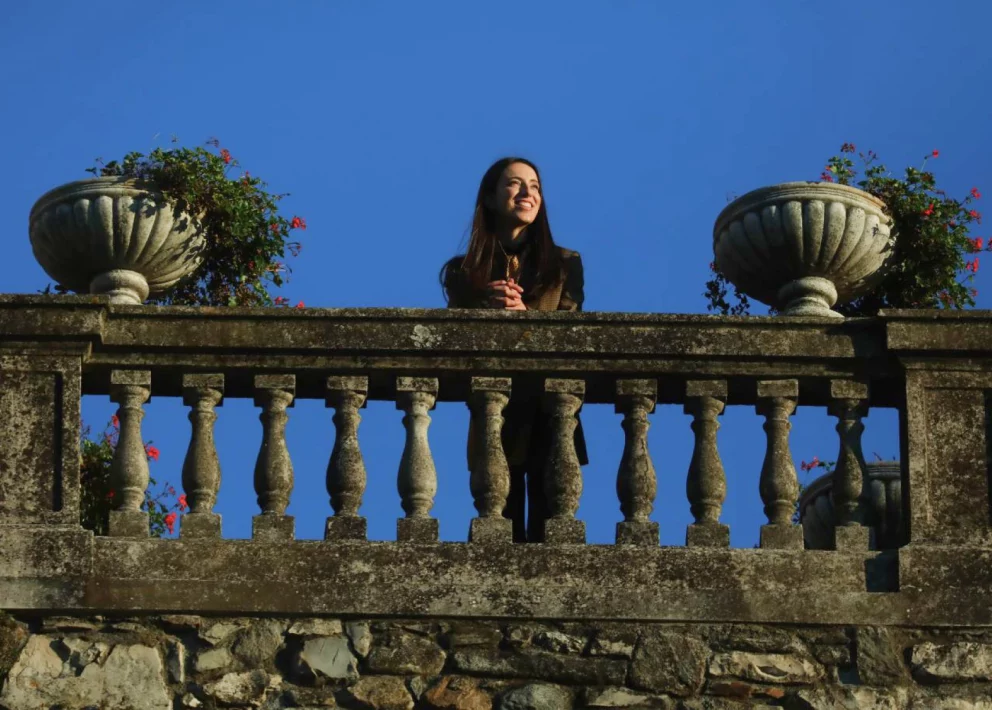 Palazzo Bianchi
Panoramic view
At the top of the 18th century steps, it is possible to enjoy a beautiful panoramic view including the garden, the Clos vineyards and the amazing Franciacorta hills.
Close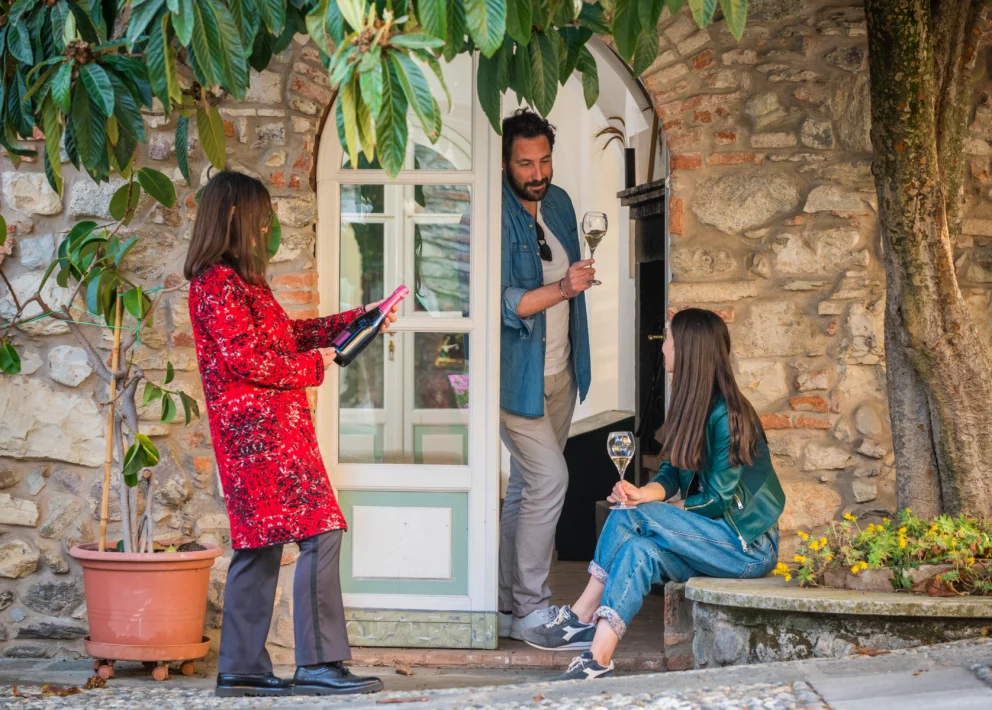 Palazzo Bianchi
The rustic outbuilding
A charming original structure located on the property which will host the tasting sessions. A beautiful setting to conclude your experience with us.
Close
Clos vineyards
Clos vineyards
Palazzo Bianchi boasts two Clos vineyards, a french word used to define a vineyard that is completely surrounded by a wall or fence. This is very rare in Franciacorta and confirms the uniqueness of the villa, whilst also increasing the importance of the actual vineyard, as it is closed and protected.
In direct contact with nature, in the park next to our Clos vineyards, you will have the opportunity to take part in a wellness experience in the heart of Franciacorta.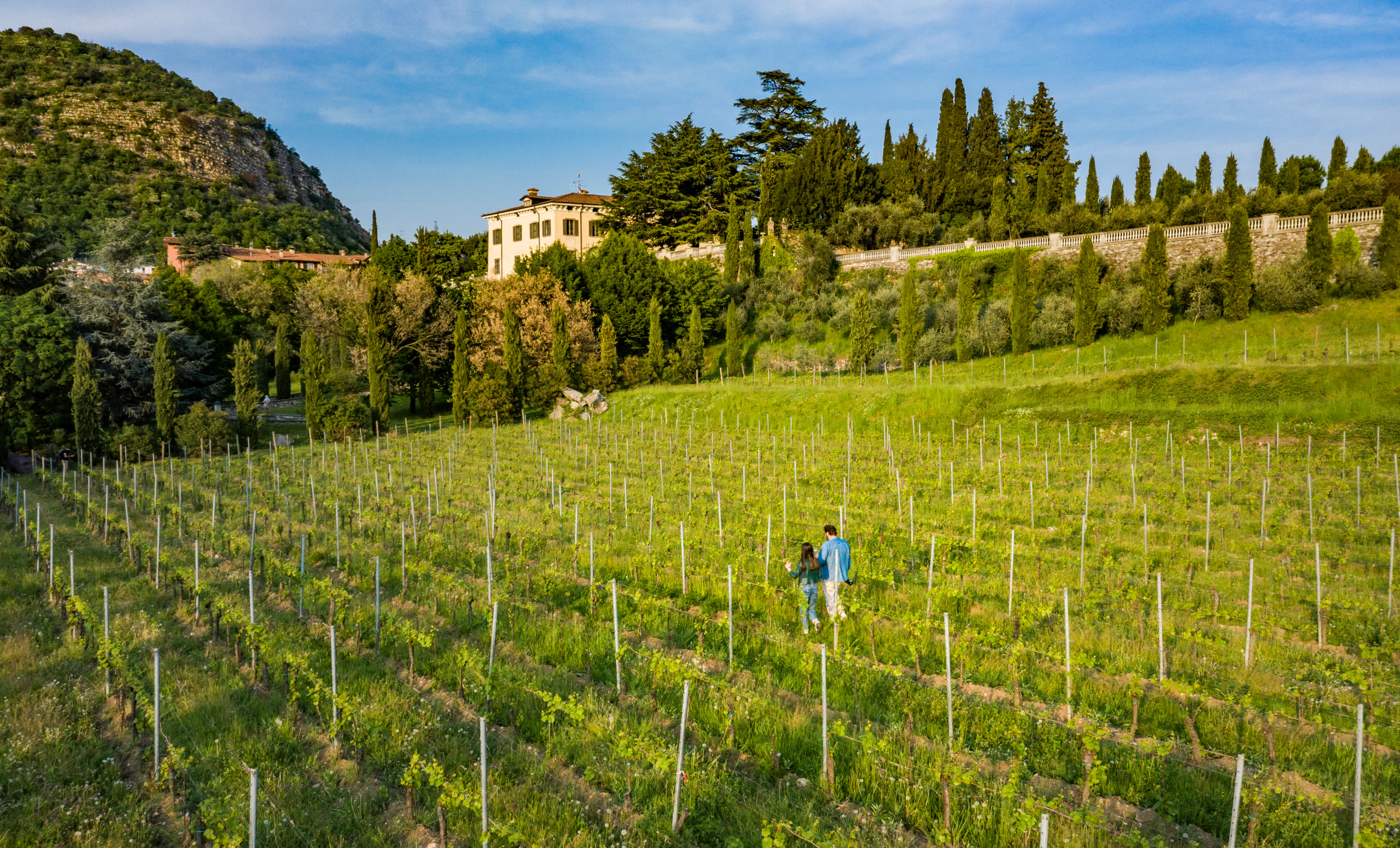 Your host
Eleonora, the name which inspired the Aenòr in Terre d'Aenòr
Guiding the visits and experiences will be Eleonora Bianchi, the granddaughter of the actual owner of the villa and the face of Terre d'Aenòr, the organic Franciacorta wine cellar based in the hills of Provaglio d'Iseo.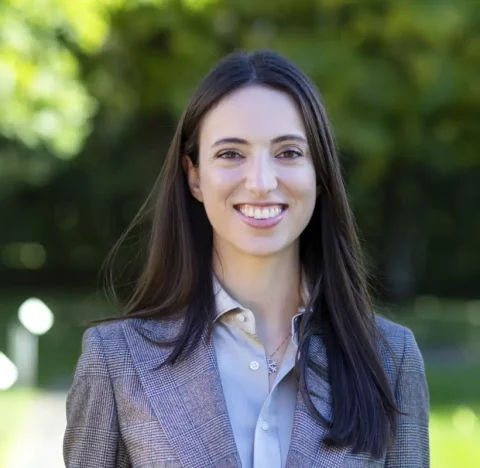 Tailored for you
The unconventional experience you were looking for
We wanted to create a new type of tasting experience in Franciacorta that blends art, wellness and wine in a natural and exclusive context. If you are a wine lover, a tourist or a history lover, or somebody always looking for the beauty in everything, this is for you.
More info
Important information before you visit
The visit to the villa
The wine tasting is accompanied by organic cooked products and grana Padano cheese PDO of a company owned by the family.
There is no charge for visitors under 18.
Not to recommended for children under 6
No access for pets in line with HCCP regulations
In order to visit the villa and/or tasting sessions it is necessary to be in possession of a "Super Green Pass" (Green Pass Rafforzato, D.L 26.11.2021 n. 172)
To access the buildings it is necessary to wear an FFP2 mask
Discover the protocol in place which guarantees you have a safe visit.
Visiting hours
Check the calendar for the updated visiting hours. When you book you will be able to select your preferred time slot for the package that you have chosen.
It is necessary to book your visit simply clicking on the button "Book now" on the package of your choice.
Visits will be organized into small groups (max 10 people). We like the idea that you will be able to socialize with other people who have chosen the same package as you.
Each visit will last 90 or 120 mins, depending on the experience chosen.
We kindly ask you to arrive at Palazzo Bianchi 15 mins before the time of your booked visit.
In case of delays, please contact us. We will try our best to accomodate any late arrivals, but, in certain circumstances, we might be unable to guarantee a complete experience.
Is it possible to purchase as a gift?
Definitely, at the time of booking select the option "A gift" and insert the details of the recipient. Each gift is valid for 1 year from the date of the booking. It is an open ticket, without a specific date, allowing the recipient to choose a date convenient for them.
What happens if it is no longer possible to participate?
It is possible to cancel the visit up to 48 hours before the start time. At the moment of cancelling you will receive a coupon allowing you to book another date at no extra cost. We kindly request that you communicate a cancellation as soon as possible, allowing us to offer the time slot to other people.
What happens in case of bad weather?
The visit inside the villa will take place as planned as will the tasting sessions in the rustic outbuilding, whilst the wellness session will move from the garden to a covered veranda.
What clothing should I wear?
For the wellness experience, we recommend wearing comfortable outdoor sportswear and sport shoes. It's not necessary to bring other equipment, we will supply you with a sanitized exercise mat. Instead, for the "Art and sparkling wine" experience, we recommend wearing comfortable walking shoes, for the walk around the Clos vineyards.
Can I organize a private group visit?
Yes of course. The minimum number for an exclusive visit is 4 people. Contact us at eleonora@terredaenor.com: where we will give all the necessary information and help tailor a visit to meet your desires.
Where is the meeting point?
We strongly recommend arriving 15 mins before the starting time of the visit, entering the property through the open gate.
Is there a car park?
You can park your car in the private car park on the property.
Are there bathroom facilities?
Yes, there are bathroom facilities located near the entrance
What language is used during the visit?
The visit will be in italian (a visit in english will be possible with prior arrangement).
Can children come?
We happily welcome children. We recommend keeping them under close supervision at all times. Not recommended for children under 6.
Can I buy wine during the visit?
There is a shop in the rustic outbuilding where you can buy Terre d'Aenòr sparkling wine. We will be happy to give you guidance to choose the best wine for you.
Do you have food allergies or intolerances?
Let us know in writing (eleonora@terredaenor.com) any dietary requirements and we will offer alternative finger-food to accompany our wine.
What are the safety regulations?
We have dedicated a specific section to this topic. clicca here for further information.
What is the newsletter about?
Subscribing to our newsletter you will receive updates, news and exclusive previews of our wine and the world of Terre d'Aenòr. It's the perfect way to always stay in contact.
Palazzo Bianchi is located in via Matteotti, 2 in Provaglio d'Iseo (BS).

Coming from the North – Iseo
Starting from the Lakefront of Iseo take Via Paolo VI and Viale Europa in the direction of Via Roma/Strada Provinciale Nord XI/SPXI.
Continue on Strada Provinciale Nord XI/SPXI in the direction of Provaglio d'Iseo.
At the roundabout take the 2nd exit and take Via Monte Bianco.
Continue on Via T. Edison. Take Via Brescia in the direction of Via Risorgimento in Provaglio d'Iseo.
Follow Via Risorgimento and Via S. Allende to Via G. Matteotti.
Coming from the South – Rovato
Starting from the highway exit of Rovato take Via del Commercio in the direction of SP51.
Turn slightly right and take SP51.
Follow Via per Rovato, Contrada S. Pietro and Via Privata Don Primo Mazzolari in the direction of Via Papa Paolo VI in Calino.
Turn left and take Via Papa Paolo VI.
Prendi Via Indipendenza in direzione di Via Luigi Cadorna a Bettolino di Monterotondo.
Prendi Via Bettolino, Via Stazione Vecchia/SP71 e Via T. Edison in direzione di Via Risorgimento a Provaglio d'Iseo.
Segui Via Risorgimento e Via S. Allende fino a Via G. Matteotti.
ANTICOVID protocol
During the visit it is necessary to follow all safety regulations. Each visitor must be in possession of a "Super Green Pass" (Green Pass Rafforzato, DL 26.11.2021 n. 172) and wear an FFP2 mask during the visit.
Safety protocol: each visit will have a maximum of 10 people. A temperature measurement will be taken at the entrance and a reading above 37.5 degrees will result in access being denied.
At various locations on the property hand sanitizing gel dispensers will be positioned. We ask each person to maintain a minimum distance of 1.5 metres from non-family members.
We are happy to help if you can't find the information that you are looking for or if you have any particular requests.
Contact Us
Visit the Villa
An opportunity to discover Terre d'Aenòr sparkling wines.
We offer a sparkling experience with the tasting of Franciacorta Terre d'Aenòr wines. Our wine cellar is 100% organic, respecting the environment whilst at the same time creating high-quality wines for all palates.